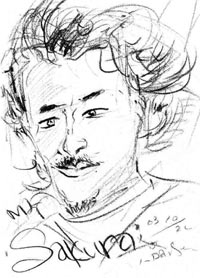 桜井洋のホームページ
プロフィール
桜井 洋
早稲田大学国際教養学部教授
専攻は理論社会学
連絡先 ab@sakurai.jp
このアドレスは暫定的なもので、スパムが来るようになったら変更します。
有効なアドレスはこのページに記載されているものです。
If you want to send me a mail, please send it to ab@sakurai.jp.

Concerning my advanced seminar on sociology in the spring semester 2020
If you are a student who wants to join my advanced seminar from this April, please contact me as soon as possible via e-mail. In the spring semester, students will make presentations about thier graduation theses. Therefore, you need to decide your topic of the thesis before joining the seminar.
関西社会学会は、若手企画部会「21世紀の社会学理論の課題を考える―複雑性理論を経由して」を2019年度大会で設置し、複雑性理論と他の諸理論の関係を議論します。『社会秩序の起源』も参考文献に挙げられています。
https://www.ksac.jp/2019/01/27/70th_young_sympo/
日本社会学会大会(2018年9月16日、甲南大学)で
「明治維新の歴史社会学序説」を報告しました。
Advanced Seminar
If you are a SILS student who is considering applying for an advanced seminar in sociology, please click below and go to the website for the application.
Advanced Seminar in Sociology
私の著書、『社会秩序の起源 ― 「なる」ことの論理』が、新曜社から出版されました。
http://www.shin-yo-sha.co.jp/mokuroku/books/978-4-7885-1547-5.htm
『社会秩序の起源−「なる」ことの論理』のページ
現在は『明治維新の歴史社会学』を執筆中です。
『明治維新の歴史社会学』のページ
This is a website of SAKURAI Hiroshi,
professor of sociology,
School of International Liberal Studies
Waseda University
2017 All rights reserved